It's official; we're registered for the Edublogs Student Blogging Challenge!
While I signed us up to participate as a class, you'll also have the opportunity to register as an individual with your student blog as soon as we've established guidelines (for posting) and commenting.
It's a good thing that we're having this conversation this week because it seems that your teacher needs to take some time to reflect on the guidelines for commenting, himself.  Take a look at my first comment, in response to the Week 1 Challenge.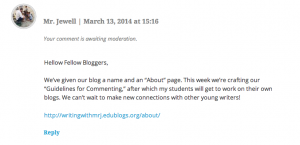 What did I forget to do?